Arduino Custom Board Configuration Application an on-line | off-line | web application for creating customised boards.txt file for Arduino IDE. It can be used on any computer, tablet or smartphone which using one of these modern browser; Chrome, Firefox, Safari.
IE 6,7,8,9 … oh! (OMG, I said browser – not a brick! 🙂 )
If you are looking for;
How to upload your Arduino sketches on different boards
How to configure Arduino IDE for different boards
How to program different ATmega processor with Arduino IDE
How to modify Arduino boards.txt to program/upload on different boards
How to customise/modify Arduino boards.txt to program different boards
An on-line | off-line tool/application to customise the boards.txt
This post probably will help you.
What "Arduino Custom Board Configuration Application" is doing?
Simply this application create a boards.txt to configure the Arduino IDE. By default this file preconfigured by known official Arduino boards configuration. But if you want to program an ATmega328P on breadboard or Tinny85 with different frequencies option, you need to modify this file to use Arduino IDE to upload on this board.
In the Arduino Custom Board Configuration Application all default boards (which provided with Arduino IDE ver.1.5.5) are already exists and pre-selected. You can remove the boards that you never use from your list to simplify your Arduino IDE boards section.
In second section of boards list, different experimental board configurations are prepared to select/unselect to create your custom boards.txt this section filled by the information found on forums and it will be richer with your involution. I'll add all tested board configuration in this section.
How to use?
Simply, first you click on the icon below;
You select/unselect the boards you want
Download boards.txt or copy from text area.
Replace the boards.txt with original one. (backup your original boards.txt or rename as boards_default.txt, maybe you'll want to remember how was it)
Using off-line | as web application | standalone on iPhone, iPad or any other smartphone/tablet.
First, visit the page that application found. Once page loaded properly;
Click on "Share" icon,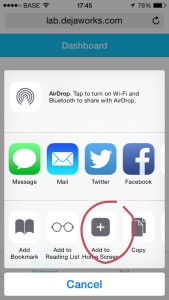 And select "Add to Home Screen" then just confirm the application name by selecting "Add"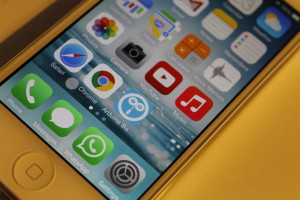 Now, you'll be redirected on your phone desktop and see the application icon. Now and then, application will be able to be used full screen (without any tool/address bar) and off-line capability.
If everything is done correctly you can even switch to "Flight Mode" application will function and when you have internet connection it will check eventual updates.
Are you Arduino lover?
So, please post here (in comment area) your tested board configuration lines, I'll add into additional board configuration section and release a new updated version.
Post some thing like that.  (only the board you've tested.)
1

2

3

4

5

6

7

8

9

10

11

12

13

14

15

16

17

18

19

20

#################################################

### USnooBie (USBaspLoader ATmega328P at 16MHz)

#################################################

usnoobie3

.name

=

USnooBie

(

USBaspLoader

ATmega328P

at

16MHz

)

usnoobie3

.upload

.protocol

=

usbasp

usnoobie3

.upload

.maximum_size

=

28672

usnoobie3

.upload

.speed

=

115200

usnoobie3

.upload

.disable_flushing

=

true

usnoobie3

.bootloader

.low_fuses

=

0xFF

usnoobie3

.bootloader

.high_fuses

=

0xD8

usnoobie3

.bootloader

.extended_fuses

=

0xFF

usnoobie3

.bootloader

.path

=

usnoobie

usnoobie3

.bootloader

.file

=

usnoobie_atmega328p_16mhz

.hex

usnoobie3

.bootloader

.unlock_bits

=

0x3F

usnoobie3

.bootloader

.lock_bits

=

0x0F

usnoobie3

.build

.mcu

=

atmega328p

usnoobie3

.build

.f_cpu

=

16000000L

usnoobie3

.build

.core

=

arduino

usnoobie3

.build

.variant

=

standard

#################################################
Happy programming…